Commissioning industrial signage can be a tricky process if you're not able to find a provider that you trust. Sign FX has been helping companies from across Ireland with their industrial sign needs for many years. In this time, we've gained experience in creating all types of signage for a huge range of customers. Even if you only require one sign or a small task, we'd be delighted to hear from you and start a discussion about how we can help to meet your needs.
The sectors we serve
Whilst we're happy to turn our hand to a project of any size or scope, there are a number of areas where we have particular experience include:
If the signage or graphics service that you require isn't included in the above list then don't worry, we may still be able to help you. Contact our expert signage team on 045 880603 or by email and we'll let you know what we can do to help meet your requirements.
The secret to good signage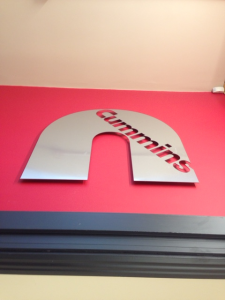 The signage on the front of your building or in your window or on your vehicle will often be the first impression that a customer gets in your company. That's why it's vital that all of the industrial signs that you create are finished to the highest quality. It's also vital that you get an designer involved at an early stage. You may well be using the same industrial signage for 10 years or more and a design that seems just about acceptable now will almost certainly look incredibly dated by the time you come to replace the signage.
We have over 20 years of experience in helping businesses across Ireland to design signage that really helps to make an impact. They've worked on everything from vehicle wrap designs to shop front signs and other pieces of industrial signage for businesses all over Ireland. Please contact our signage team on 045 880603 or by email if you'd like to know more about how we can help your business.
The work that we've done
If you are looking for a little inspiration before ordering your signage then please take a look at our gallery section. It features a great selection of examples from a wide range of industries and is the place to start if you need a little inspiration before placing an order.