Categories:
Ireland is a country of bright colours; Orange, white and green are the colours of their flag, which depicts a brighter side of the country. There is an emphasis on clarity in both pictures and wording on a sign from the Health and Safety Authority, and any sign company Ireland has to adhere. Different clients have different tastes and preference in signage, basing on the use and specification of the sign. read more →
Why you need vehicle graphics.
There are many advantages of having a vehicle graphic promoting your business. At SignFX we have over 22 years' of experience in this industry meaning you can rely on us for your vehicle graphics. We provide our expertise in the Kildare, Dublin and surrounding areas. This isn't the only service we provide to promote your business, we also offer a printed stickers, shop front signage, window graphics, engraved wall plaques and corriboard signs.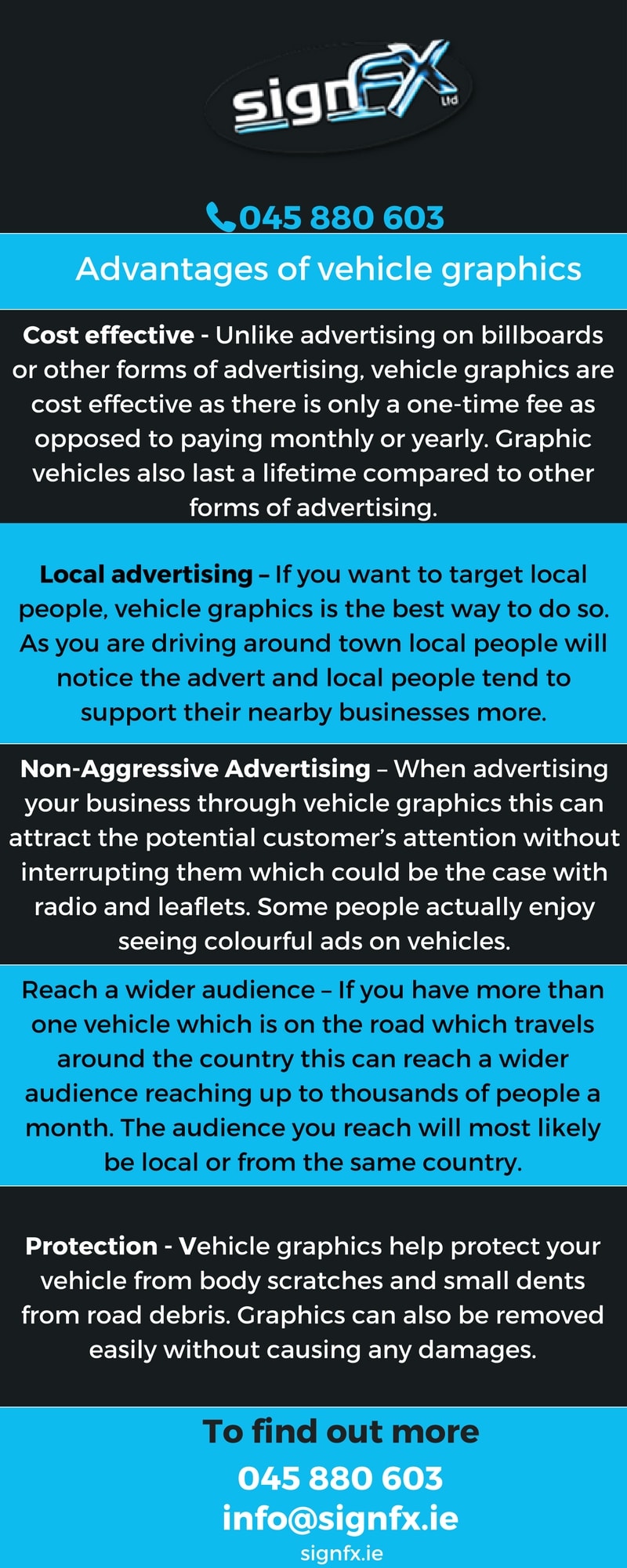 Vehicle Graphics
If you like the idea of a vehicle graphic or any of our other signage services then contact us on 045 880 603 or email us at info@signfx.ie.
The brighter side of shop signs, as seen through the lens of Google Street View
Haven't the last fortnight's set of events been awful? With this in mind, there has never been a better time for something lighthearted. In our business of ours, we deal with goodness knows how many shop signs. Some prosaic, some lighthearted. In our latest post, we have decided to celebrate the joy of wordplay and humour, through the eyes of retailers.
Categories:
How wall plaques play a part in boosting the profile of your business, inside and outside
Whether for promotional or commemorative purposes, nothing raises the visible profile of your business better than wall plaques. If your business is situated in an office with several other occupants, they are more than an advert for your company. They help your visitors to find the right office.
Categories:
The merits of corriboard
Corriboard: what is corriboard may you ask? In a nutshell, it is a plastic version of corrugated cardboard. Corrugated plastic. It is made of recyclable polypropylene which makes the material good for one time use. It also comes under a few other trade names; for example: Polyflute, Coroplast, FlutePlast, IntePro, Proplex, Correx, Twinplast, Corriflute or Corflute.
Categories:
Why vehicle signs go beyond the use of graphics on your fleet
Since William Bass made a red triangle the UK's first registered trademark, his brewery was identified the three sided shape. The golden harp, similarly, is associated with Guinness' logo. One might be wondering what the Bass and Guinness logos have to do with vehicle signs. The answer is corporate identity. Branding, in other words. read more →